Another weekend, another trip to Creek Three! Back to the coast we go, again in SnowCat & sledge. This time we are hauling lots of very soft stuff so the sledge is a very comfortable way to ride: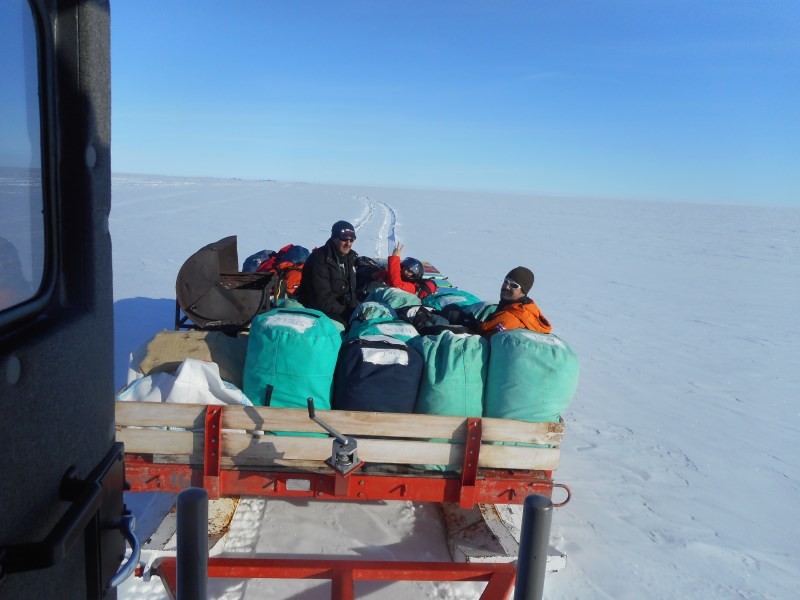 This time, all the new wintering team are heading out together. It is pretty much the first time the 13 of us were together alone for any decent amount of time. It was reassuring to see we all got along well and spirits were high!
The weekend was mainly a test of memory to see if we remembered anything from our training at Girton in Cambridge. We did, it seemed, and soon after arrival Karl and I had a tent up, which was only mildly wonky:
Fun fact about these tents – they're not waterproof. The logic is that it's too cold for water to exist outside and, if something does come through, it'll evaporate in the dry air. The groundsheet is also completely separate from the rest of the tent and goes in last, which is odd. Karl and I piled snow around the outside like that to stop the tent being blown away – snow is heavy, as we discovered as we tried to lift far-too-large chunks in a bid to out-lift the other.
You get in by crawling through a "tunnel" in the side of the tent. Inside, it's overwhelmingly red, as the light filters through the fabric 24 hours a day: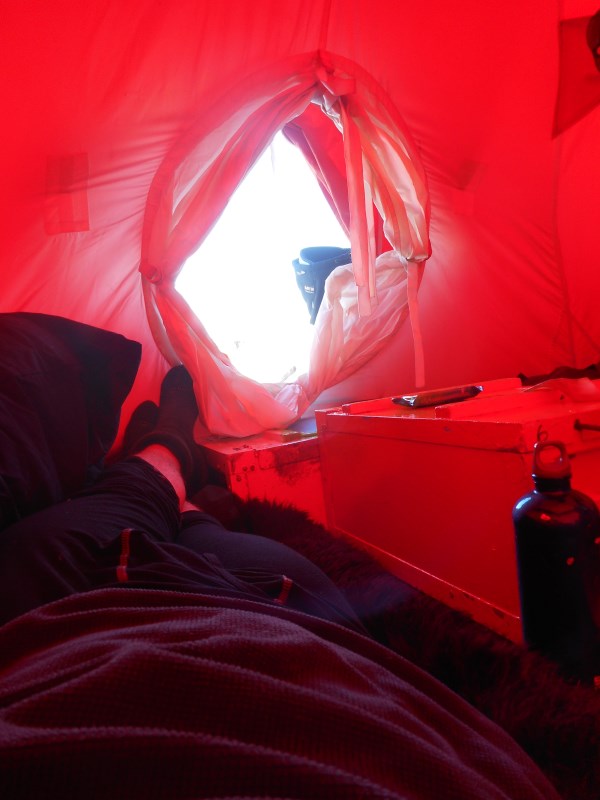 We set up our sleeping systems, which consists of:
a normal sleeping mat
a fancy Thermarest sleeping mat (a thin air mattress)
a very soft and fluffy sheepskin
a sleeping bag that when unpuffed is bigger than me
a liner for the sleeping bag
another, slightly thicker, liner for the sleeping bag
yet another liner that goes on the outside of the sleeping bag.
You might think that was all highly necessary when camping in a cold place like this but since we also have gas heaters and do all our cooking in the tent, it's very much excessively warm. I was uncomfortably hot during the nights. My opinion might change in time, though, as the kit is for -40°C rather than the tropical -10°C we had this weekend. All the mats, though, are very cosy to lie on and you really get to "nest" with all the fabric available when you're not sleeping…
While on the theme of red-tinted photos, here is a representative image of the sustenance we had that weekend: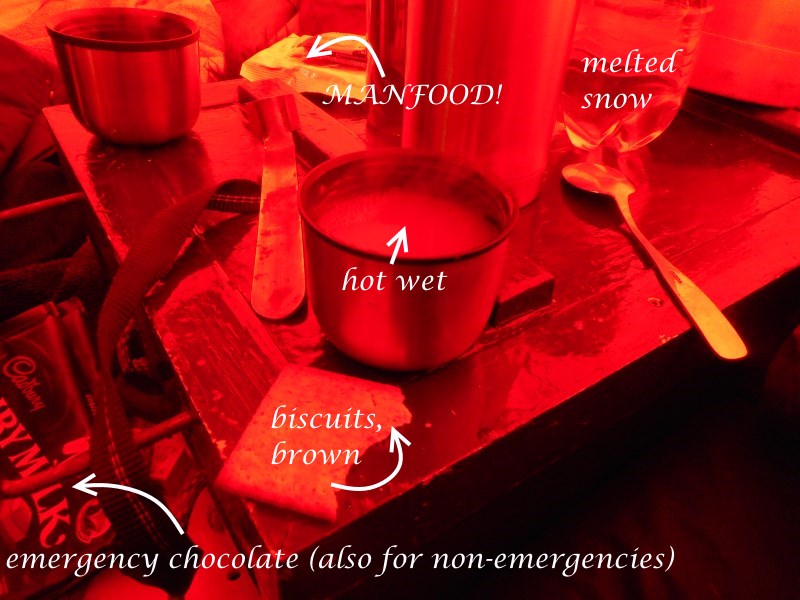 These (in ascending order of importance) are:
Emergency chocolate that appears to make up about 30% of our calorific intake. This is true even when we are on base and have lots of regular food.
Melted snow. Other people call it water, but this is crucially different as what we have is invariably slightly too hot or too cold to drink after the melting process.
Biscuits, Brown: a BAS tradition. I believe most of these were made in Scott's era, and we're still eating them. Surprisingly good, but better with condiments such as jam and tuna, or one of those alone.
Manfood: add water and stir. alternatively, for soup, add more water and stir. Either way, how good it tastes is highly dependent on hunger.
Hot Wet: any warm liquid that isn't overwarmed melted snow. Typically tea, but also frequently cocoa. Karl brought a percolator and upped the ante by producing coffee, which is unconventional. That had the effect of attracting other people in our camp to our tent – success.
The rest of the camp looked like this: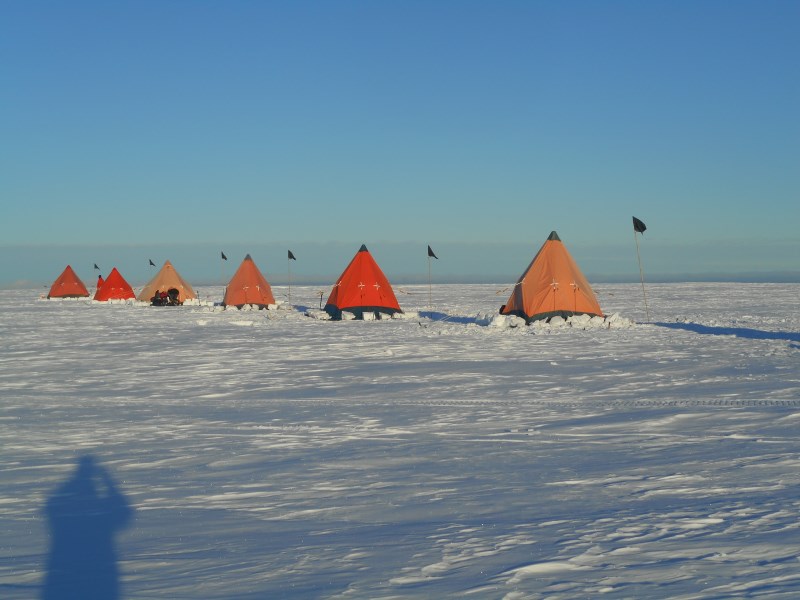 6 habitation tents with 2 or 3 people in each, and a toilet tent in the centre. The toilet tent was indistinguishable from the regular tents from the outside, but as you started entering the tunnel the smell would quickly confirm you were indeed entering the correct tent.
During the weekend, we practised some usually-easy-but-difficult-in-Antarctica things like walking over flat ground and up slight inclines. We learnt how to stop falling into holes, stop other people falling into holes and how to pull those people out of the holes in case they didn't quite get the first thing. We had bright sun and were right on the beach: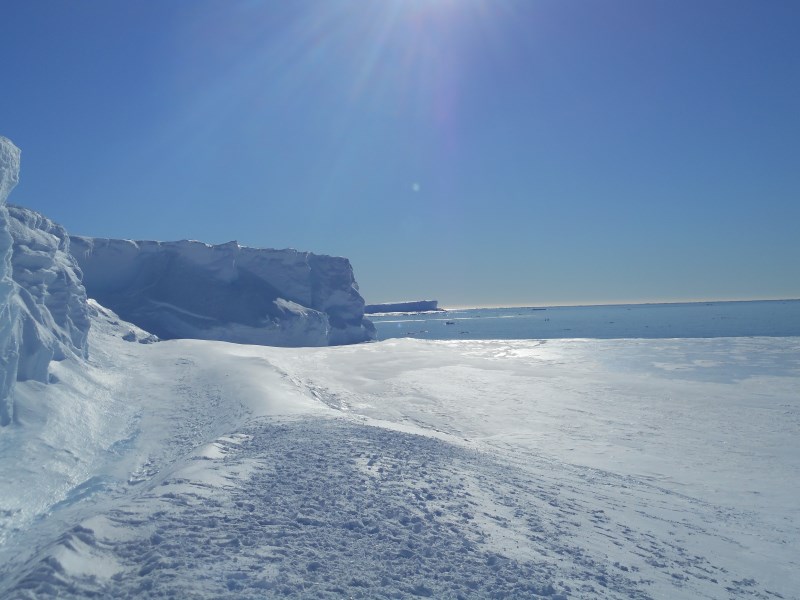 Most of us were wearing standard issue BAS wear but these rebellious three rejected that in favour of non-orange colours. From left to right, Nath (the doc), Tom (plumber) and Sarah (chef!) – all people you want to be on the good side of.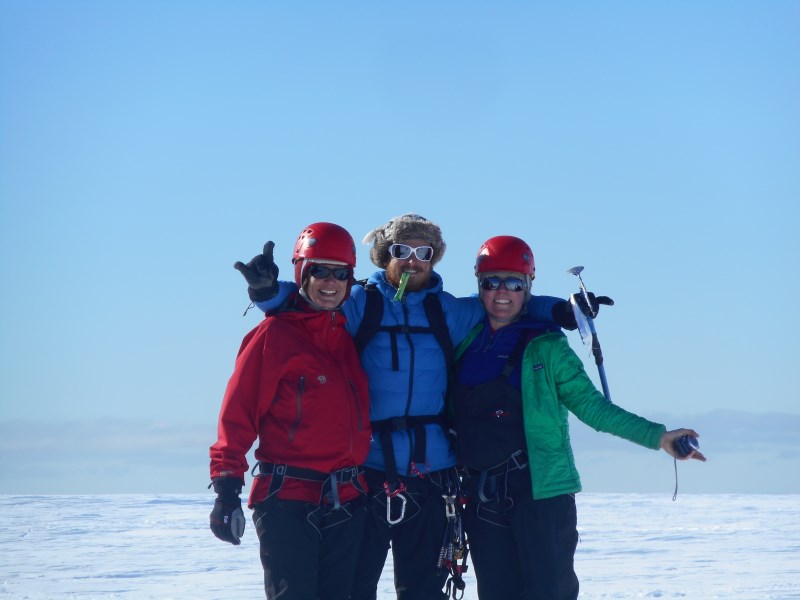 The wind picked up Sunday and started making being outside unpleasant. So, we retreated to the cabin of the snowcat – quite a squeeze for everyone – and played Cards Against Humanity. We learnt a lot about each other that day…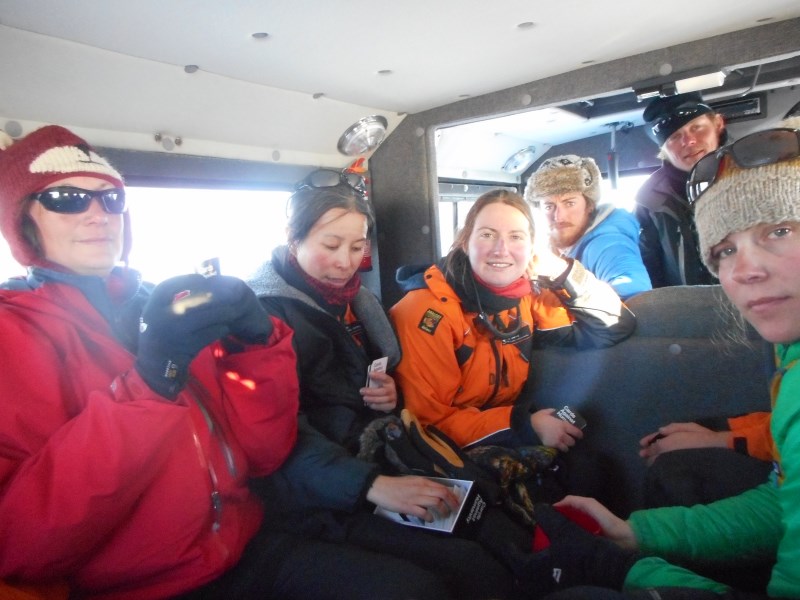 Most people left back to base that afternoon but four particularly keen peeps, myself included, decided to stay, braving the weather, to do a wee bit of iceclimbing before we left. I was much improved on the earlier weekend. Probably as a result of having to depend on my own snow anchors to hold if I fell this time…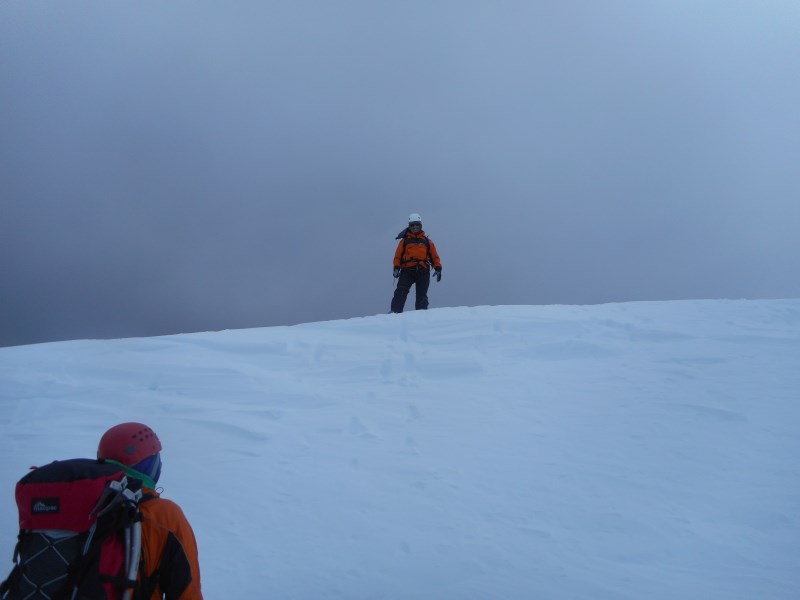 Having suitably worn ourselves out, it was time to head back to base. We had four big snowmobiles and rocked back in style. These are fun to drive, but your hands get really cold and we had very poor contrast of the snow (very flat light) so the ride back was quite rough. We practised linked travel, wherein two snowmobiles move in formation, tied together with a rope – the idea being that one can act as an anchor should the other fall into a crevasse.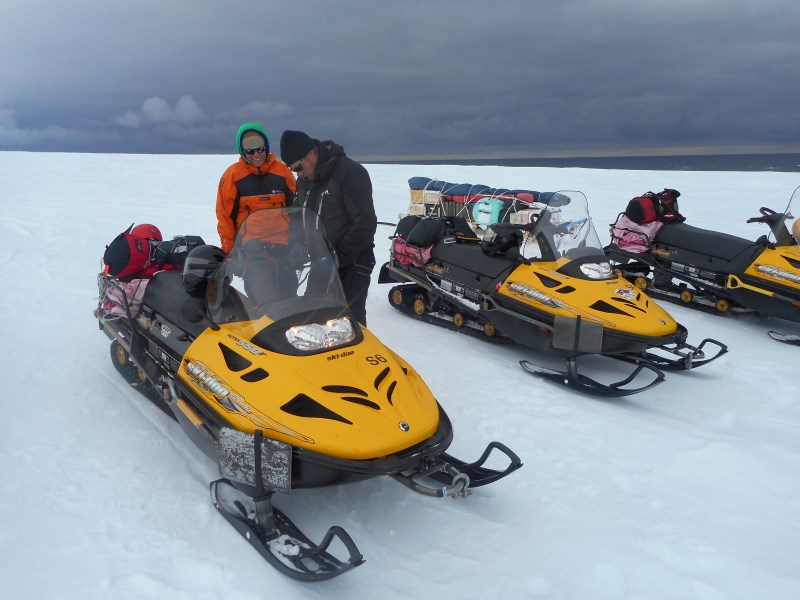 Appendix A: For all you penguin lovers out there, this guy came up to see what we were doing: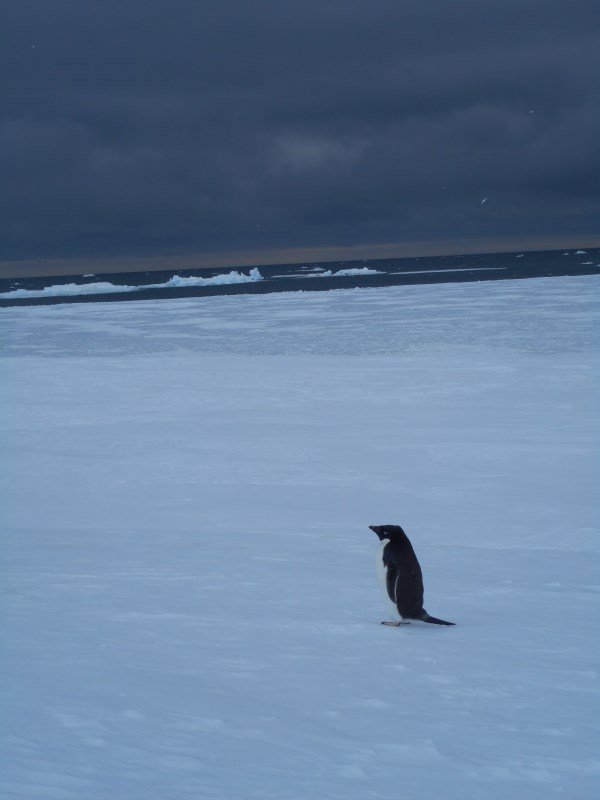 Another one came up to the camp during the night and starting chirping wildly at 0800 sharp. Great alarm clocks, are penguins.