While preparing for a field trip today, I noticed something. I have a higher-than average number of gloves. 19 pairs, to be specific, of 11 different types. All issued by BAS for a purpose!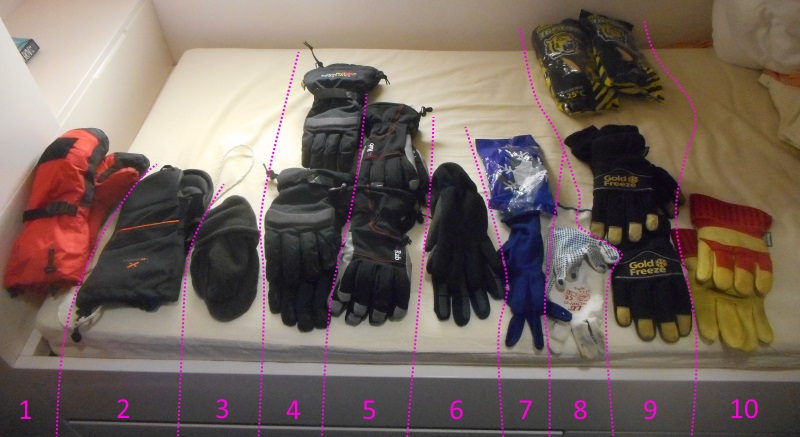 I thought I'd quickly describe them and why we have so many. From left to right, we have:
Down stuff gloves – tiny lightweight but very warm gloves carried when off base as a backup in case our main gloves get blown away, buried in snow or wet ..
Field mitts – heavy duty mitts for wearing out in the field. You'd wear these when skiing or walking outdoors off base.
Optional fleece inner for the mitts.
Winter field gloves when you're out on a cold winter day but need more dexterity than the mitts offer, perhaps because you're ice climbing or something. Two pairs of these.
Summer field gloves – my favourites so far. I use these whenever I'm going outside and now expecting to work on anything messy. Comfy – similar to normal ski gloves. Two pairs of these.
Thinnies #1. These are thinner gloves we car wear under the mitts or winter gloves for extra warmth, and to allow us to take of the main gloves to do fiddly work without needing to expose skin. I've not used these much yet but will need to soon.
Thinnies #2 – a lighter version of 6. I've not made much use of these since it's not been cold enough for them, and because they have a habit of siding with the outer glove over my hands when I take them off.
Electrical gloves – for handling electrostatically sensitive items, or delicate items that don't like getting grease fingerprints on them. An excellent choice for the the discerning criminal looking to evade detection.
The Gold Freezes have a mixed reputation here. Some people say they fall to bits quickly and aren't very warm. Those people are right. However, we were issued with four pairs of them, so they there always tends to be a pair handy when you go outside quickly. As a result they get more use than any other glove type.
Fuelling and dirty work gloves. Fortunately, my job description doesn't usually involve really messy stuff (with one notable exception..) so these look fairly clean still. Some of my teammates, however, aren't so lucky and their pairs of these are a distinct shade of black.
Not shown are the bearpaws, another pair of oversized mitts with fur on the back side. We will use these for skidoo riding in the coldest weather when we need vast amounts of insulation. You can't really move your hands in these, though.
Up next: Footware of Antarctica! 🙂